Journal
---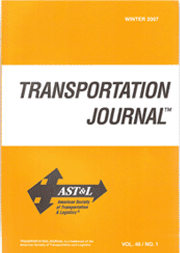 &nbsp&nbsp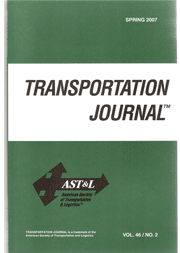 &nbsp&nbsp&nbsp&nbsp&nbsp&nbsp&nbsp&nbsp&nbsp&nbsp&nbsp&nbsp&nbsp&nbsp&nbsp&nbsp&nbsp2007 NO.1&nbsp&nbsp&nbsp&nbsp&nbsp&nbsp&nbsp&nbsp&nbsp&nbsp&nbsp&nbsp&nbsp&nbsp&nbsp&nbsp&nbsp&nbsp&nbsp&nbsp&nbsp&nbsp&nbsp&nbsp&nbsp&nbsp&nbsp&nbsp&nbsp&nbsp2007 NO.2
Synopsis

The TRANSPORTATION JOURNAL is devoted to the publication of articles that
present new knowledge relating to all sectors of the supply chain/logistics/transportation field. These sectors include supply chain/
logistics management strategies and techniques; carrier (transport firm)
and contract logistics firm (3PL and 4PL) management strategies and techniques; transport economics; regulation, promotion, and other dimensions of public policy toward transport and logistics; and education.
SCM Dictionary
---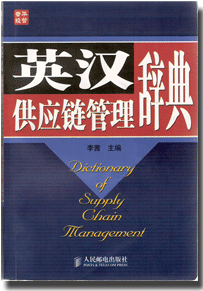 Synopsis

This book references recognized North American and European industry standard definitions for supply chain management terms, combined with the current meanings of supply chain management terms in China to produce the most essential supply chain management vocabulary in the world.
This book provides comprehensive coverage of the broad fields included in modern supply chain management, such as production management, logistics management, quality management, warehousing, transportation, industrial engineering, finance, accounting, electronic commerce, etc. More than 4,100 entries are defined and exemplified.
The book can be used as a professional handbook for the management staff of supply chain management, information technology, supply chain management, manufacturing software development, and for the student studying logistics, transportation and industrial engineering. It can also be used as a reference book for the person who is studying for an International logistics certification.